Water Well and Pump Repair Service
WELL PUMPS are used to deliver water from an underground water source to your home. There are three types of well pumps, Shallow Well Jet Pumps, Convertible Well Jet Pumps, and Deep Well Submersible Pumps. Shallow Well Jet and Convertible Well Jet Pumps are NOT submersible and are usually placed inside a protected area outside a well. Deep Well Submersible Pumps typically are submerged inside your well.
Water Well, Pump and Tank Service
We service all brands of water pumps and pressure tanks and stock most parts needed to get your system working again the day of repairs. Our network of pump parts suppliers provide us same day service for parts we may not have in stock. You may bring your pump to our shop for repairs, or we can bring our equipment to your home to make water well and pump repairs.
Our hoist trucks are capable of repairing most wells, and they can remove your pump or jet assembly from your well and make the necessary repairs to get you back in service the same day. We also have truck mounted high capacity air compressors to clean lime scale and hard water mineral buildup from older wells, to protect your new well water pump from damage.
In cases where water well pumps are located inside buildings or on difficult terrain, we have specialized remotely operated hydraulic portable pump pulling equipment capable of servicing these hard-to-reach pumps.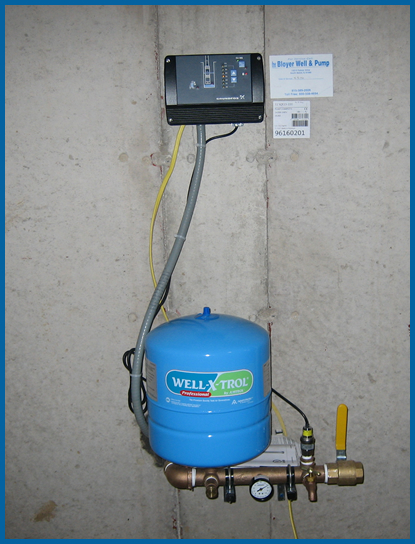 Constant Pressure Pumping Systems
Are you experiencing low pressure from your well pumping system? Whether you want high water pressure from a new water well system or you would like to improve the pressure of your existing pumping system, a Constant Pressure system is a great way to go and we can help. We rely on constant pressure products, which bring the kind of high water pressure found in city water systems to your new or existing home or business well.
If your home or business has limited space for a pressure tank, we can outfit you with a wall mount constant pressure system. Wall mounted constant pressure systems give you with much needed extra space as well as better water pressure where you most need it. We'd love to show you some of the features of constant pressure systems, which include superior pump protection and longer component life.